There are so many issues facing frontline healthcare workers in the United States right now. In their efforts to fight the pandemic, frontline healthcare workers have been working even longer hours than they usually would. Many hospitals are currently being overwhelmed with COVID-19 patients. At the same time, people are still being injured or falling ill with other sicknesses, maximizing the amount of work that healthcare workers are taking on in a way that has never been seen before. Additionally, many frontline healthcare workers are not necessarily able to go straight home after their days of hard work if they've been working directly with COVID-19 patients. In an effort to cut down exposure and the spread of the virus, these workers are often being kept in hotels and other locations, unable to really relax at home or spend time with their loved ones.
This is stacked on top of the emotional and physical tolls that come with working on the front lines of the pandemic. Health care advocates and other types of frontline workers, in general, are being forced to care for people who are dying at an alarming rate, and in many cases are the only people that can be around COVID-19 patients as they die. The emotional weight of this issue can be devastating. At the same time, they are being overworked, creating a combination of emotional and physical tolls that can be difficult to deal with.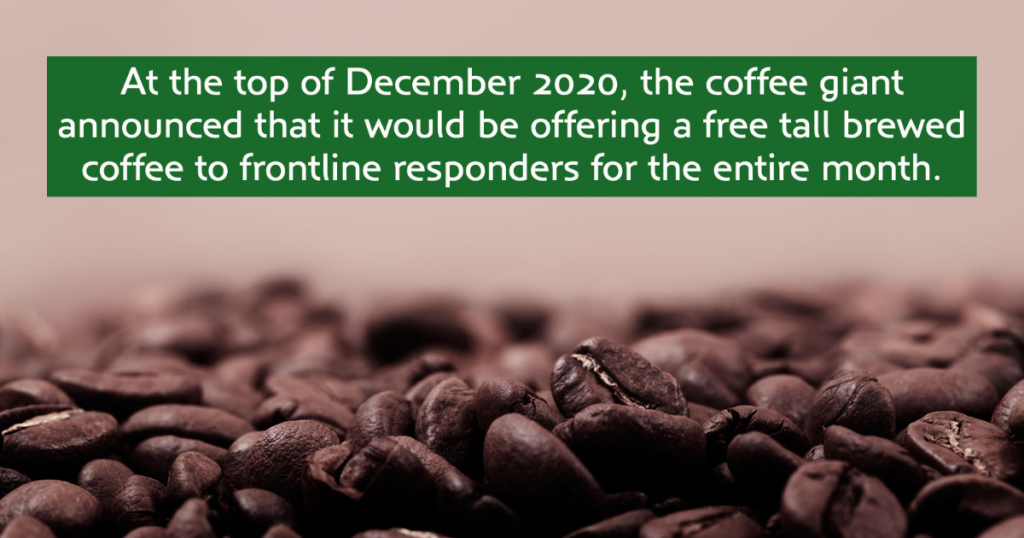 This is why Starbucks decided to become involved in the efforts to care for the different types of frontline workers in the only way that they can: through coffee. At the top of December 2020, the coffee giant announced that it would be offering a free tall brewed coffee, either hot or cold, to frontline responders through the U.S. for the entire month. This gesture was given as a token of appreciation for the frontline workers and their efforts to keep the U.S. safe in the midst of the COVID-19 pandemic.
The question for some might be exactly what counts as a frontline worker. In fact, there are many different types of frontline workers, and not all of them are necessarily doctors and nurses. Starbucks of course did count doctors and nurses as frontline workers, but they also extended the offer to pharmacists, dispatchers, public health workers, paramedics, fire fighters, EMTs, law enforcement officers, dentists, and dental hygienists. Additionally, mental health care workers, including psychologists, therapists, counselors, psychiatrists, and social workers are being given the offer.
Those that do not work directly as healthcare workers can also count among different types of frontline workers. Those that work in hospitals as staff like janitors, housekeepers, and other types of cleaning staff, security guards were included in the offer. So too were active duty members of the military, contact tracers, vaccine and pharmaceutical researchers, pilots flight attendants, the TSA, and medical researchers.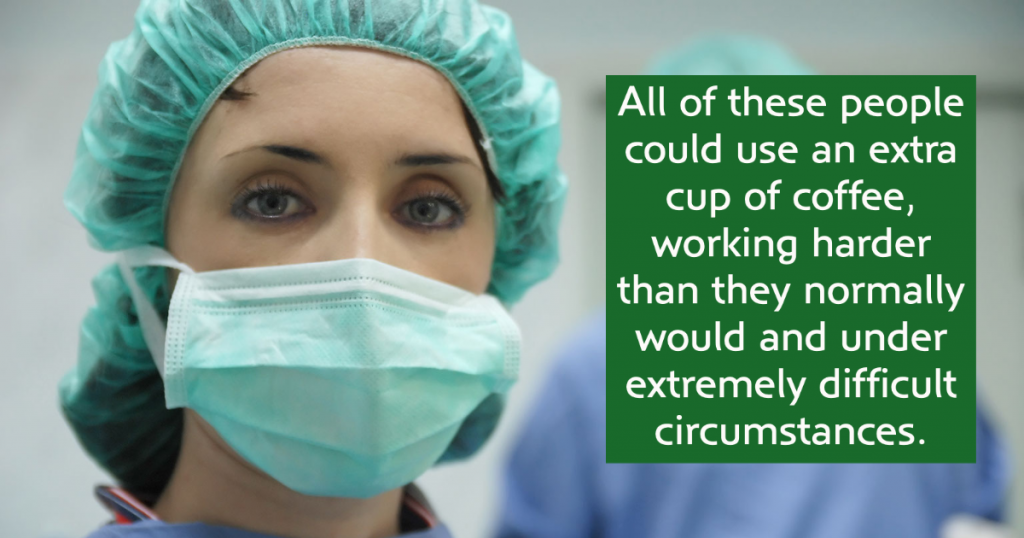 All of these people could use an extra cup of coffee, working harder than they normally would and under extremely difficult circumstances. People are reliant on coffee for an additional energy boost. While the boost of energy given through caffeine may not last for a long time, it can be refueled over time. Americans in general are fairly addicted to caffeine, with the typical American drinking around 11 pounds worth of coffee beans every year. A lot of people really do need the chemical boost that comes with caffeine, simply because their bodies have grown used to them. While it's unlikely that anyone will need an interventionist to help them break their dependency on caffeine, it's still something that can become problematic over time. At the same time, coffee, and especially Starbucks coffee, can be somewhat expensive over time. Some frontline healthcare workers may not necessarily have the additional funds available for extra cups of coffee whenever they want them. This is why Starbucks made this offer, but it's not the only way that the company tried to make a difference.
Understanding that there are major issues that need to be addressed for all different types of frontline workers, Starbucks also made plans to send care packages to frontline workers. In fact, 50,000 frontline workers received different care packages as well as Starbucks gift cards. In general, this is not the first time that Starbucks has made a gesture towards the frontline workers in the U.S. From late March until May, the company pledged to give frontline healthcare workers a free cup of coffee, which ultimately made up 2 million brews. Since March, the Starbucks Foundation has made donations to frontline workers that amount to over $1 million. The donations went towards delivering personal protection equipment, care packages, essential medical items, and handwritten letters. Support was also offered to those that needed emergency assistance, including mental healthcare for first responders and healthcare workers.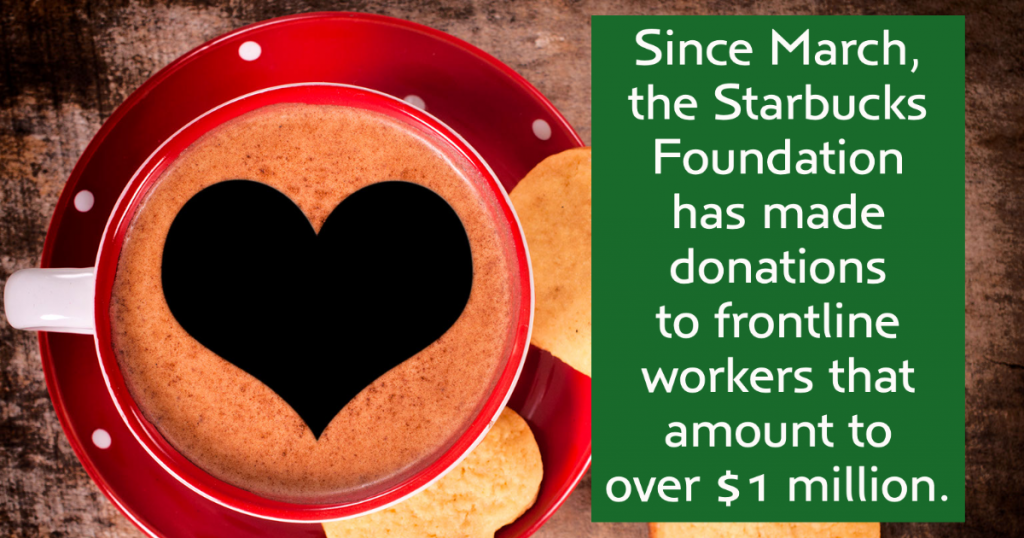 Furthermore, the Foundation has partnered with Operation Gratitude. Operation Gratitude accepted aid from the Foundation in distributing 300,000 care packages. These care packages contained not only letters but a one-pound bag of whole bean coffee. They also shipped out 110 pallets of K-Cup pod donations to hospitals and military units as the pandemic rages on. These types of donations can help raise people's spirits and energy, which is extremely important now more than ever. At this time, it's extremely important that all types of frontline workers have the energy and motivation to keep moving forward. That can be quite difficult right now. Additionally, many frontline workers may feel overlooked because, though they are working on the front lines, they are not within the fields that are traditionally recognized as belonging to frontline workers.
In reality, not only are there many diversities between different types of frontline workers; but the U.S. needs more frontline workers. Therefore, people that may not have been working the frontlines when the pandemic initially began currently have to offer their resources. The efforts being made by Starbucks will hopefully help highlight the fact that there are so many different forms of frontline workers.
Different Types of Frontline Workers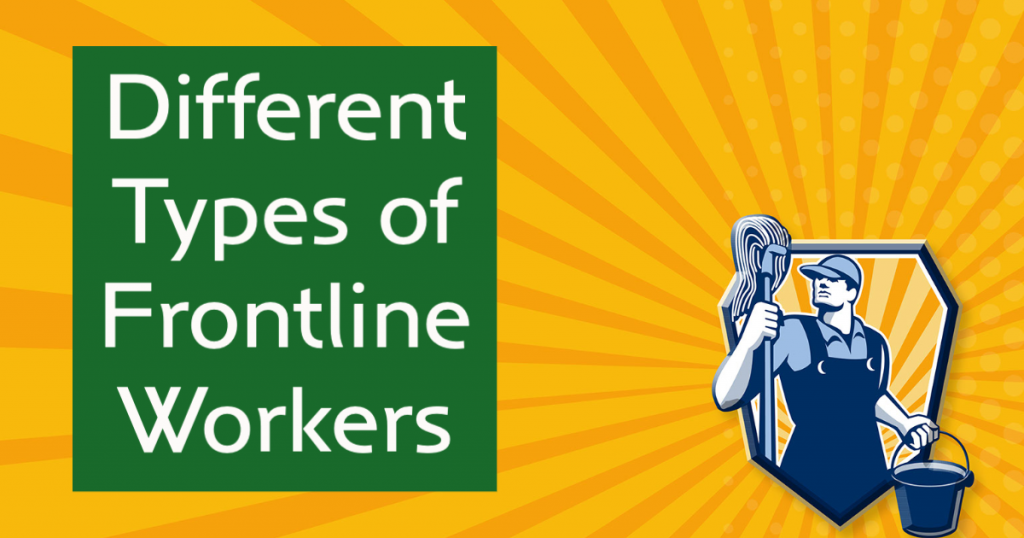 As previously mentioned, the traditional types of frontline workers that Americans in particular typically think of healthcare workers in hospitals. These include doctors, nurses, technicians, assistants, and much more. Obviously, these frontline workers are incredibly important and are often working the most directly with COVID-19 patients. But in order for them to work to the best of their abilities and treat patients as effectively as possible, they need to be in working facilities. Therefore, all hospital workers need to be considered frontline workers. This includes the people that are cleaning the hospitals and hospital equipment, especially in light of the pandemic. Essentially, people cleaning hospitals are helping prevent the further spread of the disease.
Additionally, technicians are needed to ensure that all equipment is working correctly. Hospitals function through the use of many different machines. These machines take up a good bit of space, and they typically can only help a limited amount of people per machine. For example, a ventilator can only be used on one person at a time, and there are a limited amount of ventilators available at each. The reality is that many of the people in need of emergency care are not able to get that the care that they need in a timely manner due to a lack of resources.
This is why people transporting those resources have had to work harder than ever in recent months. Truckers must move quickly to transport medical equipment to hospitals in need, sometimes driving great distance in order to do so. Pilots are also transporting equipment in large amounts, as are members of the military. Some states have directed their national guards to transport medical equipment and even hospital beds.
Furthermore, it should be noted that there is actually a shortage of frontline healthcare workers occurring in some states. This could be because doctors, nurses, and others that would typically work in hospitals are falling ill as well, forcing them to quarantine for extended periods of time. It could also be connected to the simple math of the amount of COVID-19 patients entering hospitals, alongside the number of people entering hospitals for reasons that are not connected to COVID-19 at all. The reality is that a lot of hospitals are having an issue with ensuring that their frontline workers are able to tend to their patients properly.
Therefore, they have had to turn to workers that may be trained in the medical field, but would not traditionally work in hospitals for assistance. This kind of assistance may be especially helpful as states begin distributing the COVID-19 vaccines more effectively, as many healthcare workers have been trained in administering vaccines even if they are not necessarily equipped to deal with more serious medical issues. This is why dentists have been charged with undertaking some of the work traditionally handled by different types of frontline workers. While dentists traditionally, obviously, focus on dental care, they are medical professionals and can offer aid in handling healthcare worker shortages in their areas. California has actually approved a waiver for 36,000 dentists to be trained in administering the COVID-19 vaccine. This training is fairly straightforward, taking place online and requiring no more than three to four hours of the dentists' time.
Surprisingly enough, dentists are not the only types of healthcare professionals that may be trained to pitch in and help as the COVID-19 vaccine is rolled out. Additionally, veterinary professionals may be trained to administer the vaccine to human beings. (It should be noted that both dogs and cats have been recorded as contracting the virus, though whether or not they can transmit it to human beings is still being investigated.) Both Connecticut and the Canadian province of Manitoba are currently enlisting veterinary professionals to administer the COVID-19 vaccine. Ideally, these veterinary professionals will not need to administer these vaccines. But as the doctors and other healthcare professionals that typically would administer these vaccines become overloaded with caring for sick patients, additional help may be needed.
This help may also come from people providing elder care services. These individuals can already be counted among different types of frontline workers, as elderly people are especially at risk of dying if they contract COVID-19, and those caring for them must do everything they can to monitor for symptoms and prevent outbreaks.
Unfortunately, many retirement facilities and buildings housing assisted living apartments are ideal places for the virus to be spread. Therefore, workers in those facilities are having to provide even more services and be even more present in order to prevent people from interacting unsafely with each other. This can be a very physically and emotionally taxing job. It can be extremely difficult for these people to go through not only preventing the spread of the virus but watching what happens when older individuals do catch the virus.
This is why Starbucks has done what it has done, and will hopefully continue to uplift the community of healthcare workers attempting to care for those in need. The emotional fallout of COVID-19 has been massive. People forced to quarantine or lose their jobs have reported higher rates of depression and anxiety, which are being addressed through therapy and therapists. Additionally, some healthcare workers have become so depressed and overwhelmed by the rates of death occurring due to the pandemic that they took their own lives.
An extra cup of coffee or coffee served with vacuum insulated tumblers may not be able to cure the mental health crises that come along with COVID-19. But it allows for an additional boost of energy and motivation, and perhaps most importantly, it shows healthcare workers that Starbucks cares. Those that run the company care, and those that work for the company care, and they appreciate everything that frontline workers have been doing. When the pandemic does subside, frontline workers will be those that the U.S. will owe the most. While they fill many different roles, they are all doing their part to address the pandemic to the best of their abilities.